An Interview with International Student from Kenya Studying at Central China Normal University
Views:500 Time:8/21/2020 2:31:14 PM
The fast developing China attracts more and more international students to studying in China. They can not only learn knowledge and skills but also know more about China. International students make a good relationship with Chinese. They want to serve their own country with what they have learned in China, so that they can contribute to their beloved country.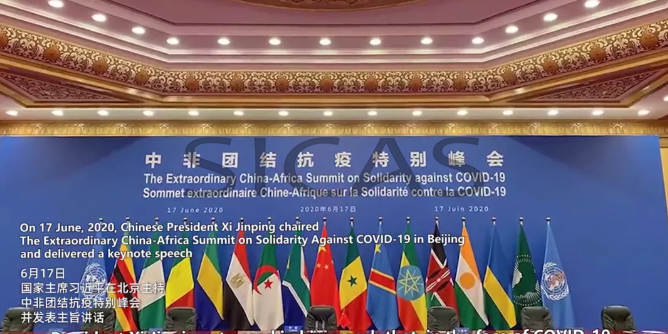 International student Adhil Cavins tells his story about anti-covid19 in Wuhan.
1. Reporter: First thanks for your time. Please introduce yourself briefly.
Adhil Cavins: Okay. My name is Adhil Cavins. I come from Kenya. In 2017, I was awarded the master degree of international relations by University of Nairobi. My major is mainly about the relationship between China and Africa.
2. Reporter: Why do you want to study in China?
Adhil Cavins: In 2018, I visited China as a visiting scholar for the first time. During the visiting, I wen to Beijing and Inner Mongolia, knowing the China's experience of eliminating poverty and economic transition. In Inner Mongolia, I noticed that the local government guided the citizens through desertification control and tourism development.Also there are financial sponsorship policy conducted by the government, so that farmers can increase their income and get rid of poverty in a short time through planting fruits and running livestock operations.
This trip makes me want to know more about China and thus introduce China's development experience to my country and the people living in it. After I went back to Kenya, I applied phd of international relationship in Central China Normal University with China government scholarship. In 2019, I went to Wuhan to start my studying life in China.
3. What do you think Wuhan?
Adhil Cavins: Wuhan is a beautiful city full of charm. Every day here is unforgettable for me. One day I walked down Wuhan Yangtze River Bridge, being amazed by this masterpiece which integrates different ways of transportation. Emerged in the sea of historic sites, I felt the depth of Chinese traditional culture. Although my Chinese is not good, people would like to communicate with me. The hospitality of Wuhan's people influenced me a lot.
4. Reporter: Tell us more about the covid-19 related information please.
Adhil Cavins: On January, 2021, I went back to Kenya to send the winter vacation. After Wuhan's shutting down, I kept close touch with my friends and classmates who were in Wuhan. They told me about China's effective anti-epidemic procedures. Thanks for their sharing, I got to have a full understanding of the situation in Wuhan. I wrote many articles on media, telling the real stories of Wuhan's anti-epidemic campaign to my people back in Kenya.
5. Reporter: What role do you think China plays during this outbreak of covid-19?
Adhil Cavins: The covid-19 was sweeping Africa quickly at that time. It was China who gave us hand and helped us preventing the disease together. China shipped not only lifesaving medical equipment but also personal protective equipment, such as medical masks, gowns, gloves and face protection. China sent the medical expert team to Africa and share with us about their experience of managing during the outbreak through video. All of those help reflects the positive contribute of China, and also gives Africans strong support to fight against the disease and keep safe and healthy. Currently, China's economy has recovered, which shows its strong consistence and inner stability. China's supporting for multilateralism and free trade gives a new strength to the recover of global economy.
6.Reporter: What do you think about the relation between Kenya and China?
Adhil Cavins: My country, Kenya, is the beneficiary of One Belt, One Road. For now, over 400 medium companies invest in medicine, agriculture, energy, infrastructure and other fields. The building of Mombasa Nairobi Railway not only provides lots of job opportunities but also helps improve the national competitiveness of Kenya. Many African nations want to learn from China's developing experience, helping eliminating poverty and improving life quality.
7. What's your future plan?
Adhil Cavins: I hope I could go back to Wuhan as soon as possible to finish my study. In the future, I will try my best to contribute to the development of Africa and help strength the friendship between China and Africa.
Source:kenya-visa-eastchina official wechat account.
---
Contact us if you want to study in China:
Whatsapp: +86-15318861816
Email: service@sicas.cn
---
You may also want to read:
BRCIC international students share paintings to support China.
China will win the war against corona.
International students colourful life in China.
I want to study in China with scholarship.