An Interview with International Student from Tanzania Studying at Central South University
Views:752 Time:8/24/2020 1:29:51 PM
The fast developing China attracts more and more international students to studying in China. They can not only learn knowledge and skills but also know more about China. International students make a good relationship with Chinese. They want to serve their own country with what they have learned in China, so that they can contribute to their beloved country.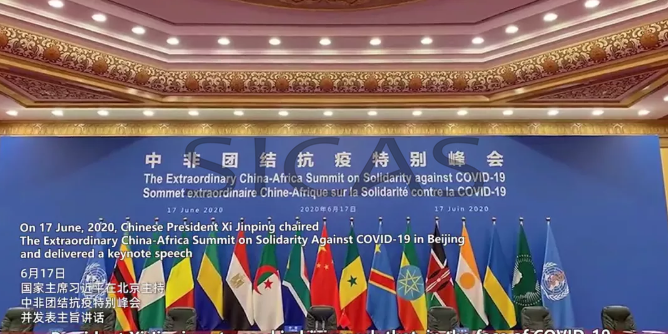 International student Emanuel Itzhak Soumaly tells his story about anti-covid19 in Wuhan.
1. Reporter: First thanks for your time. Please introduce yourself briefly.
Emanuel Itzhak Soumaly: Okay. My name is Emanuel Itzhak Soumaly, I'm from Tanzania. In September 2019, I started my master degree of nursing care for patients with chronic kidney disease in Central South University. With the help of my mentors and classmates, I adapted to the life style in China in a short time. I get to know more and more about China. What impressed me most is that Chinese are very diligent, humble and hard-working.
2. Reporter: What did you plan to do if there is no disease?
Emanuel Itzhak Soumaly: I planned to travel all over China at the beginning of February, so that I could have chance to experience different cultures and traditions of different areas in China. However, my plan changed because of the corona virus.
3. Reporter: How's your school life in the past few month?
Emanuel Itzhak Soumaly: During the outbreak of covid-19, school's care gave international students so much relief that we don't need to worry about it. Also, my school created a online information platform to update the latest situation, so that we can protect ourselves better. When we were in quarantine, we cannot go out to buy food. School provided us with three meals a day and bought necessary supplies. As the monitor of our class, I helped to do daily work to fight against the virus. Everyday, I reminded international students to check their temperature and update their health condition. Also I instructed classmates to download app, which is used to have online classes.
4. What do you think about China's response to the covid-19?
Emanuel Itzhak Soumaly: For a few months, I check the latest news and information about the virus through internet and media. I am one of the witnesses of China's great efforts to fight against the covid-19. Chinese government tried her best to implement the strictest procedure, mobilize all the medical resources to prevent the spread of corona virus. Citizens stayed at home of their own free will. They sterilize every day and wear masks when they go out. As a medical student, I admire Chinese medical staff so much. They came to the front line to save lives day and night risking their lives. They made great efforts to fight against the epidemic.
China controlled the virus in a short time thanks to the effective measures. Right now, China's economy has recovered, and the situation is smooth. What I have saw and learned during this special time impressed me and touched my heart. Tanzania Guardian published my articles about China's anti-epidemic stories.
China not only did a good job to protect the people in China, but also mapped the genome and shared it with WHO and the wider world. Trough international cooperation and scientific research, China contributed a lot to the pandemic response. It was China who gave us hand and helped us preventing the disease together. China shipped not only lifesaving medical equipment but also personal protective equipment, such as medical masks, gowns, gloves and face protection. China sent the medical expert team to Africa and share with us about their experience of managing during the outbreak through video. China's help for all African nations during the difficult time shows the deep friendship between China and Africa.
5. Reporter: What do you think about the relation between your country Tanzania and China?
Emanuel Itzhak Soumaly: Recent years, China and Tanzania have more closed cooperation thanks to the One Belt, One Road. China invests in constructing Dar es Salaam Harbour to help us realize industrial upgrading. Thus lots of job opportunities are available for Tanzanians. Meanwhile, Chinese government provides many scholarship opportunities for African students, so that we have chance to learn skills in China. I cherish this opportunity a lot. I hope I can serve people better after graduation. Also, I am still looking forward to traveling China and telling my family and friends about China and Chinese people.
Source: kenya-visa-eastchina official wechat account.
---
Contact us if you want to study in China:
Whatsapp: +86-15318861816
Email: service@sicas.cn
---
See Also:
BRCIC international students share paintings to support China.
International students colourful life in China.
I want to study in China with scholarship.
An Interview with International Student from Kenya Studying at Central China Normal University.