An Interview with International Students from Ghana Studying at Quanzhou Normal University
Views:959 Time:8/18/2020 2:37:35 PM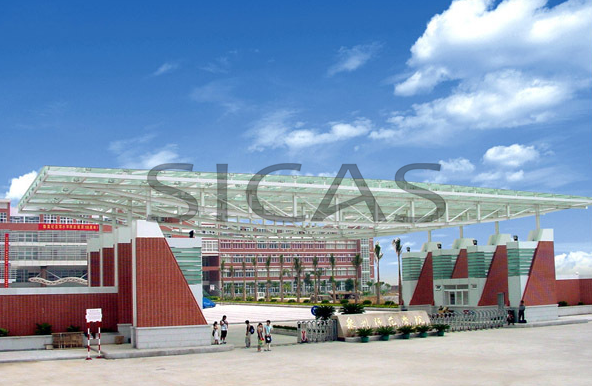 (Today's interviewee: Oppong Gordon,Kwasidanso Dwamena, two African students from Ghana who are now studying at Quanzhou Normal University. )
The Charm of Chinese Attracts Us Come to Study Chinese in China.
1. Why do you choose to study in China at the first place?
Oppong Gordon: One of the main reasons is that China' economy has developed very fast recent years. China's strength has improved, capital has accumulated. Chinese culture has become more and more popular among the whole world. The three words "Made in China" are omnipresent. Meanwhile with the development of relationship between Ghana and China, more and more Chinese companies moved to Ghana. In order to better fit in this new environment, I choose to study in China. Another reason is that I noticed I have more and more Chinese friend but every time I meet with those friends, I realized that they are very good at a kind of special language, which is totally strange to me. I don't understand Chinese, I don't know this language at all. With the curiousness, I decided to come to China and study Chinese here.
Kwasidanso Dwamena: In 2014, I had chance to travel in China for two months. After that, I am totally attracted by China and Chinese culture. Besides, I have a relative who runs his business in Guangdong province. They need someone who has Chinese background to help with the business. That's why I finally choose to come. It took me more than 10 hours flying from my country to China.
2. Do you both have Chinese names?
Oppong Gordon:Yes, of course. My Chinese name is Liu feng.
Kwasidanso Dwamena: I call myself Zhanghan.
The hospitality of Quanzhou Normal University Makes Us Happy.
1. How do you choose city and school?
Oppong Gordon: I have two friends studying at this school, they showed me some photos of the school and the city.Also they told me many details and stories. I think Quangzhou is very beautiful. The transportation is convenient. There are many delicious food here. From my friends' description, I can tell they really enjoy their life here. So I decided to study at Quanzhou Normal University.
2. Have you met some difficulties and challenges?
Kwasidanso Dwamena: Well, language is of course the first challenge for me. Language as the communication tool becomes the most difficult thing for my life. Although I tried my best to study Chinese, there are too many different dialects that are too different from mandarin. It makes me feel so confused at first. Also, I encountered some cultural shock. I think Chinese are very shy. When I walk around at campus, I feel many students want to talk and take photos with me but they merely dare to do it.
Oppong Gordon: I think food is a challenge for me at first. The dishes are too different from Ghana's. Gradually, I am used to them and I like eating Chinese food now.Oh there's an interesting thing. Once in class, my teacher asked me what I like. I thought she asked what I like to eat. I answered rice, rice. Then the whole class just laughed so badly.
3. What's your future plan?
Kwasidanso Dwamena: I want to further study Chinese. Hopefully I can help with the family business with my Chinese skills.
Oppong Gordon: I want to stay in China longer to practice my Chinese. Luckily, I hope I can find a job here.
Speaking of their study life at Quanzhou Normal University, they are very grateful for their teachers and friends. They think their teachers and friends have helped them a lot in all kinds of ways. They really enjoyed their life here.
Source: zsqj88
---
Contact us if you also want to study in China
Whatsapp: +86-15318861816
Email: service@sicas.cn
---
You may also want to read:
An Interview with International Student from Nigeria Studying at Shenyang Pharmaceutical University.
An Interview with International Student from Ghana Studying at Northwest Normal University.
I want to know more about Quanzhou Normal University.
Quick test: how much do you know about China?