An Interview with International Student from Nigeria Studying at Shenyang Pharmaceutical University
Views:594 Time:8/17/2020 10:56:32 AM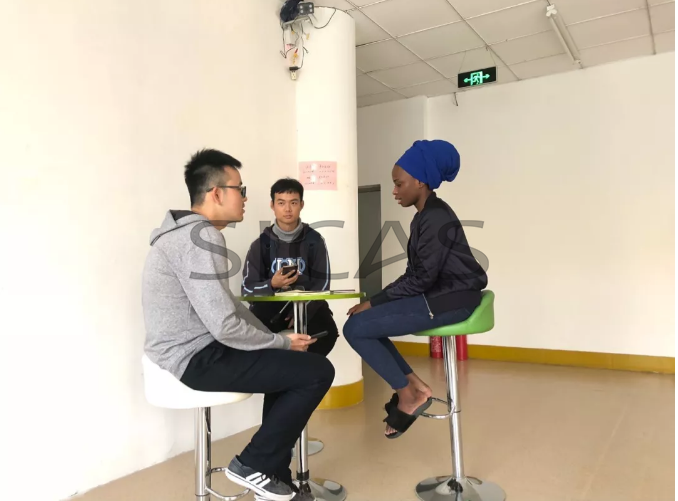 (Today's interviewee: Hadiza,an African student from Nigeria who is now studying at Shenyang Pharmaceutical University.)
Reporter: Nice to meet you. Could you tell me where is your hometown and can you introduce it to us?
Hadiza: Hello , my name is Hadiza and I'm from Nigeria.It is a very beautiful country in Africa and it has a magnificent view about prairie. Welcome to Nigeria.
Reporter: Where have you been last holiday?
Hadiza: I went to Shenyang which is a really nice place. I ate lots of delicious food there and exposed myself to the fantastic culture.To sum up, it was an unforgettable memory for me.
Reporter: How many cities did you visit in China? And which one do you like best?
Hadiza: I have visited many cities in China such as Shenyang, Guangzhou,Zhengzhou, Beijing and so on, but the place I like best is Shenyang, for the reason that Shenyang is the place I live and study in ,and I get used to it.What's more, Beijing is the city that captures me and so do other cities.
Reporter: Do you think Shenyang is different from your country, and what impress you most?
Hadiza: What impressed me most is the temperature in Shenyang,it is too cold and it's not common in Africa.In addition, Shenyang is a modernized city, but my hometown is a place with beautiful scenery
Reporter: What do you think about your dormitory?
Hadiza: Um......I think the condition of the dormitory is good, but I can not get used to something. For example, we bath in bathhouse there ,but in my hometown,everyone has an independent bathroom.So I am not accustomed to this.
Reporter: Do you think Chinese is difficult for you?
Hadiza: Chinese is a little difficult for me,especially for the Chinese pronunciation. For me,it's like an impassable obstacle.
Reporter: What do you usually do in your spare time?Are you satisfied with your life in Shenyang Pharmaceutical University?
Hadiza: I do nothing special in my spare time. I like to eat some snacks and play some games to let the time fly. I am satisfied with my life in Shenyang Pharmaceutical University. Particularly for my special series of lectures which I indulge in.
Reporter: Do you like the Chinese food ?
Hadiza: I like Chinese food very much,I usually like to eat fried rice and fried noodles. But I don't like all the food in China,I prefer to eat some spicy food for the reason that spicy food is popular in Nigeria.
Reporter: If you like eating spicy food, Sichuan is a good place for you. Sichuan is a province in China and there are many spicy food ,you will like it.
Hadiza: Thank you very much. I am willing to taste their food if I have chance.
Reporter: Thank you for accepting our interview. It's really nice to meet you.
Reporter: Thank you for having me. I'm very glad to meet you, too.
Source: spuica
---
Contact us if you also want to study in China:
Whatsapp: +86-15318861816
Email: service@sicas.cn
---
You may also want to read:
More interviews with presidents from school and international students.
I want to study in China with scholarship.
I want to know more about Shenyang Pharmaceutical University.