Grateful Letter to SICAS (Afghan)
Views:5560 Time:1/24/2018 10:04:07 AM
Editor`s note: Hassan Sayed, holder of Jiangsu Jasmine Government Scholarship. The following is appriciation to SICAS from Sayed`s father
Dear SICAS
Thank you very much your support and help!
I highly appreciate SICAS and your personal interest in this great achievement. Of course, my special appreciation also goes to Ms. Linda for her hard work and significant number of email communications in this regard.
As far as sharing my experience with other students and parents is concern, let me say in brief that; SICAS can count on me as free of charge representative in Kabul and maybe in this region. Because, I know that you helped us a lot and I have moral responsibility to do so.
All the best and regards
Hassan
NOTICE OF SCHOLARSHIP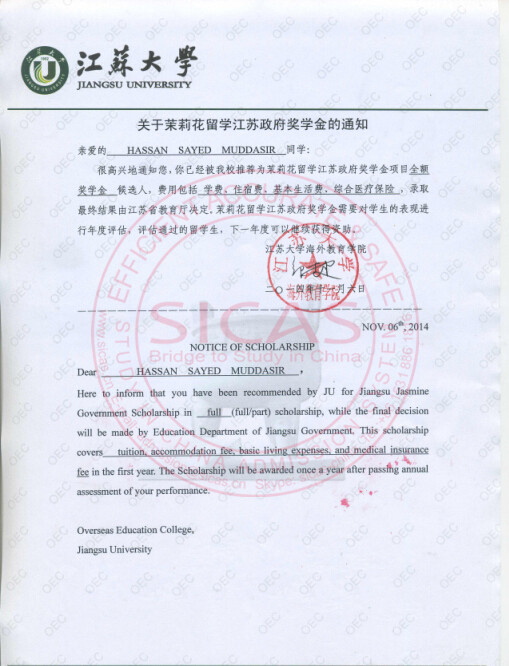 ---
Click here to start your application.
Contact us if you are interested in studying in China
Whatsapp: +86-15318861816
Email: service@sicas.cn
---
Read also:
Study Chinese and foundation course in BRCIC.
International students' experience with SICAS.
Opening ceremony for international students held in BRCIC.
BRCIC international students share paintings to support China.