Best Service of SICAS Leads to Wonderful Life—— By Tayor
Views:731 Time:1/25/2018 5:01:41 PM
Hi, I'm Tayor from South Africa. I have been always very interested in China, from crafts to furniture, from food to beverage, from people to language. In fact, I'm crazy about all the things in Chinese style. I'm willing to give a right answer to any questions they raise about China. My friend told me : 〝You like China so much, why don't you go to China?〞That's really hit me. I want to go to college in China!
I searched on the Internet and began to know about SICAS. Seeing their website, I decided to take the chance. After I ask some questions online, the adviser contacted me positively. I choose their "Plus Service Package" which I think is worthy more than it takes. They help me choose my university and prepare the material and the charts. From application to Visa, from luggage to air ticket, they have all done for me. What a surprise! But more surprising things are still ahead.
When I got out of airport, I saw SICAS staffs were just waiting me at the gate holding a board with my name. We took pick-up pictures and sent them immediately to my parents, which is the most comfortable part for them. Then they drove me to my home. Yes, I had a home before I arrived.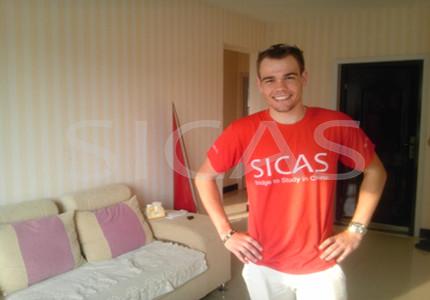 What a beautiful home I have! I have such a cozy house. I love it! The landlord of my house is a gentleman and SICAS has settled all the terms. It is also safe and near. It just takes me ten minutes to get to my classroom. Thanks to SICAS.
I registered at the school, applied for new bank card and choose a new phone number of my own under the assistance of SICAS. Even on campus, there are specialists——my schoolmates helping me the entire week. I can get help in any time.
SICAS is an efficient, accurate and safe online platform that you can trust. "Plus Service Package" offers me a best service. Now I get everything ready. Wonderful life, I'm coming.
---
Click here to start your application.
Contact us if you are interested in studying in China
Whatsapp: +86-15318861816
Email: service@sicas.cn
---
Read also:
How to apply Chinese universities.
Study chinese online, anytime & anywhere.
International students' colourful life in China.
Apply Chinese universities with scholarship.
2021 September Intake of Chinese Top Universities' Application Starts NOW!