SICAS--Stand By Your Side
Views:799 Time:1/23/2018 9:42:33 AM
Editor's note: For overseas students who can't speak Chinese, it could be a nightmare for them to go to the bank alone because they would probably have a tremendously hard time dealing with those complicated procedures. However, things will get easier if you've got one SICAS student service team member along with you.
Eunice, a 19-year-old girl from Zimbabwe, is going to study in Shandong Jiaotong University. During the first few days after her arrival in China, SICAS student service team member, Sara gave her a lot of help. What was the most impressive is when Sara helped Eunice withdraw money in the bank. One day, Eunice told Sara that her friend sent her some money through Western Union and she wanted to withdraw the money. Having learned this, Sara took Eunice to a nearby bank only to be told that they need to go to Agriculture Bank of China which was far away from Eunice's university. Determined to solve the problem for Eunice, Sara took Eunice to that bank immediately no matter how far it was. When they arrived there, Sara communicated with the staff and then told Eunice what she needed to do. Under the guidance of Sara, Eunice finished the registration soon and got her money.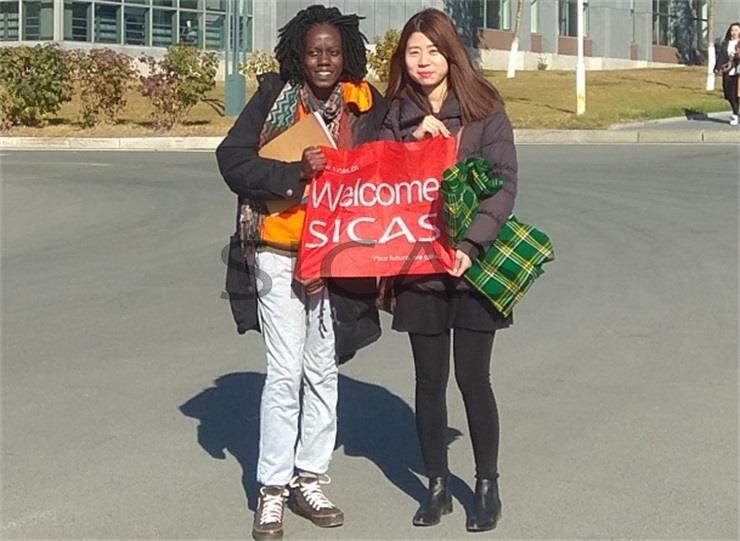 Eunice and Sara

---
Click here to start your application.
Contact us if you are interested in studying in China
Whatsapp: +86-15318861816
Email: service@sicas.cn
---
Read also:
SDJTU Held 2015 Opening Ceremony for International Students.
Welcome to Shandong Jiaotong University to Study With Scholarship.
Welcome to Study Metro/ Fast Train Engineering at Shandong Jiaotong University with Scholarship.