A grateful letter from Michael Payer
Views:6832 Time:1/24/2018 10:09:41 AM
To SICAS Student Service Team,

I want to express my thanks to your team during my application to the Clinical Medicine course in Weifang Medical University.
I have studied here for two months and I really enjoy the life here!

First of all, I would like to thank you for your fast and secure application system. I completed my application only in four steps,
and even I myself doubted if SICAS was reliable. However, when I received the admission letter from Weifang Medical University,
I felt I made a bright decision to choose SICAS. What`s more, owing to the inconvenience of using PayPal, your team really
helped me to pay the university application fees and allowed me to return you the money after arriving in China. My family was
touched by this considerate service. I will come to visit you and take this opportunity to thank your team personally.
Thank you again I wish your team all the success and happiness.
All the best
Michael Payer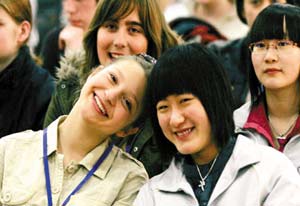 ---
Click here to start your application.
Contact us if you are interested in studying in China
Whatsapp: +86-15318861816
Email: service@sicas.cn
---
Read also:
How to apply Chinese universities.
Study chinese online, anytime & anywhere.
International students' colourful life in China.
Apply Chinese universities with scholarship.