There is No Boundary for "Excellence"
Views:577 Time:10/12/2022 1:30:43 PM
Name:谢明君NAJMUL HASAN
Nationality:Bangladesh
School:School of Management
Major:Management Science and Engineering
Supervisor:鲍玉昆BAO YUKUN
Degree Awarded:Doctoral Degree
Enrollment Y/M:2018/09
01 My Most Impressive Story at HUST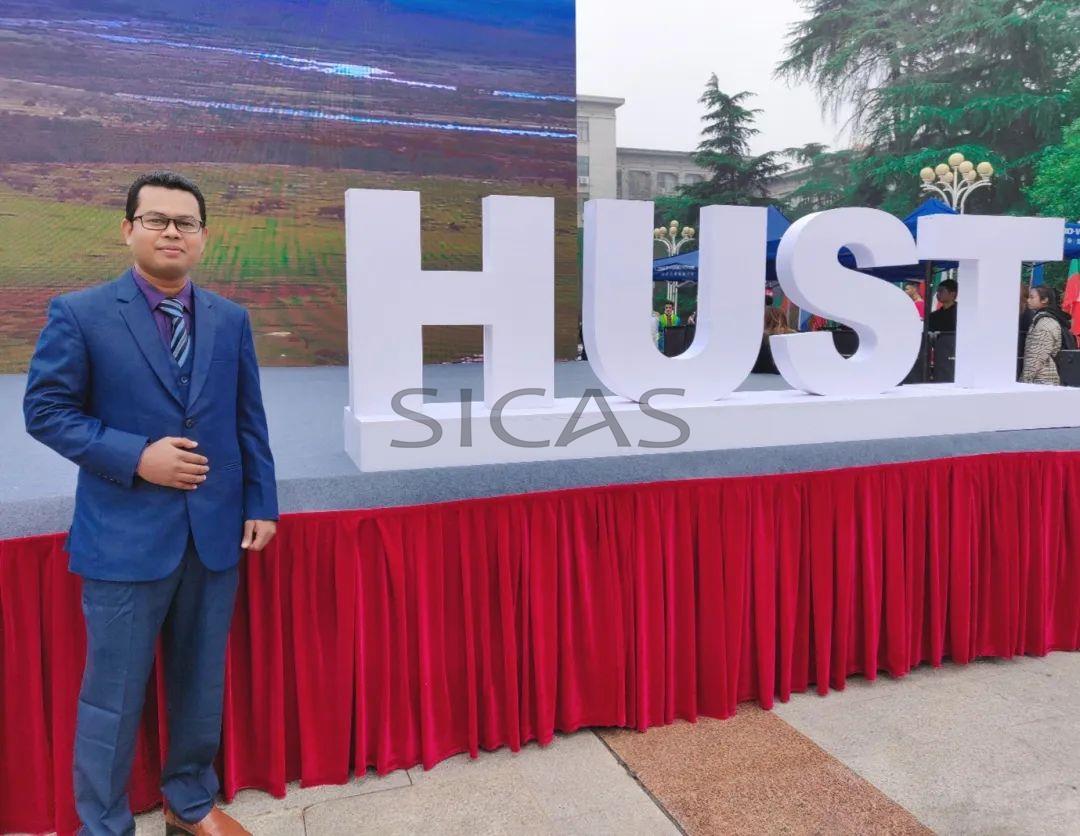 This is Najmul Hasan from Bangladesh, and I recently received my doctoral degree (2022) in Management Science and Engineering from the School of Management at Huazhong University of Science and Technology, Wuhan, China. Although Bangladesh is an emerging economy country with a small land area compared to the number of universities, the country has been referring to the lack of research-oriented institutes, and becoming a scientific researcher is not a straightforward path here. I find it a great blessing that I had the opportunity to pursue my Ph.D. at a research-oriented university, HUST, in China. Over the journey of my doctoral studies at HUST, I have published a total of 25 research articles, 16 of which have been recognized by the SCI/SSCI index (A category–9 articles and B category–7 articles). Moreover, I have been honoured with the "HUST Excellent Academic Award" for the last three years in a row (2018–2019, 2019–2020, and 2020–2021). At the end of the journey, I have been honoured with "HUST 2022 Honorary International Graduates". This has been an incredible experience for me, and along the journey, I have stored up a lot of impressive memories at HUST. A few words might not be enough to express the feelings that I am experiencing.
Despite the fact that I was excited to get an admission letter from a world-leading university like HUST, I was slightly nervous about new challenges like the language, the people, the culture, the environment, as well as the dietary habits in China before I travelled there. The impressions began with the very first step into HUST's campus, with the kind greeting extended by the ISO team members. Their enthusiasm to assist students in coordinating visits to medical centre and visa offices, as well as their provision of city tours, have left a positive impression on me. In addition to that, my beloved countrymen provided further evidence that the Bengali people share a strong sense of brotherhood. However, the most memorable day in my life is learning the first Chinese word "Nǐ hǎo" (你好) from Professor Fang Fang in Building D9, Room 501. Following that, the HUST cultural exchange program, the gala night arranged by SICA, and the annual sports program are attracting increasing attention through the neurons in my brain.
Moreover, I was stunned and delighted by the excellent research environment, as well as the frequent seminars on scientific research that were presented by world-famous experts and organized by several schools, including universities. All of the foregoing being said, I consider myself extremely blessed to have Professor Dr. Yukun Bao as my honourable supervisor because of his willingness to ensure open communication. It is hard to adequately convey in words how helpful it is for a Ph.D. candidate to maintain their psychological fitness.
Furthermore, receiving the "HUST Excellent Academic Award" for three consecutive years and the "HUST 2022 Honorary International Graduates" uplifts me. It motivates me to excel, and it has already been demonstrated how far folks will go when they devote their time towards it. That is a wonderful thing, since it helps me believe in myself as well. These awards would encourage me to research harder and longer since there is no boundary for "excellence". Last but not least, "never lose sight of your degree of devotion; invest your time; do not seek a fast route; excellence is right around the door".
02 Graduattion Message
What I have realized is that: to meditate, do not need a quiet corner nor does it necessitate the preparation of oneself on a regular basis; all one needs is the dedication to sit still and take control of mind. Doing so even while talking with others is possible. Research is like meditation; set your goal and keep control of your mind. The flight is not straightforward; you are the only one worthy of fixing the issues and reaching the mission.
03 Plan after graduation
Academic faculty position in Bangladesh or China.
Source: HUST
Read more