SICAS Holiday Notice for 2015 New Year's Day
Views:946 Time:1/26/2018 10:43:50 AM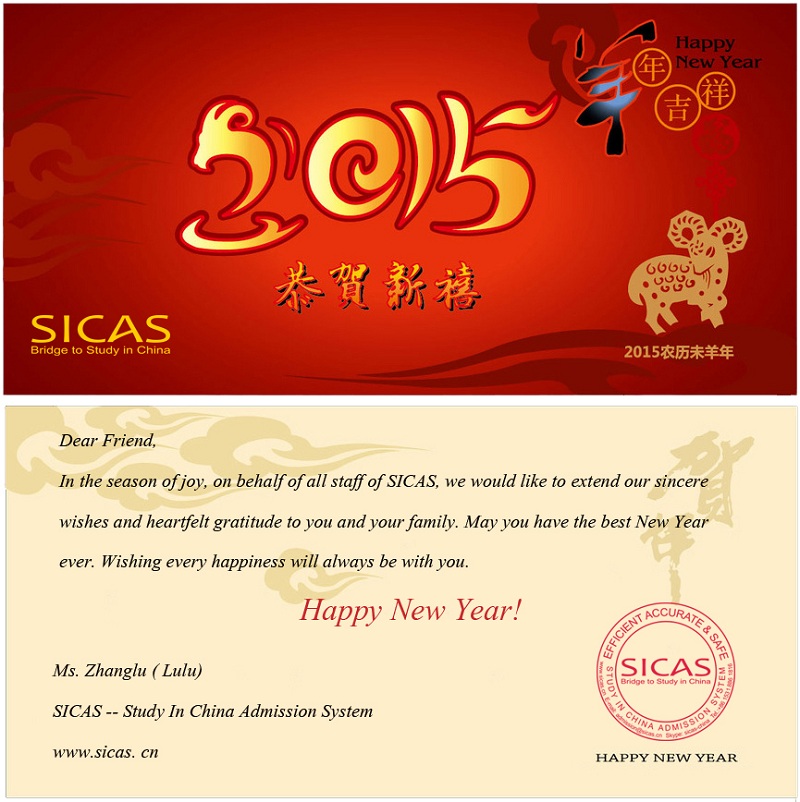 Dear friends from all over the world,
The new year of 2015 is coming. Here, SICAS wishes you a happy new year and may joy and health be with you throughout the year!
SICAS will spend the holiday from January 1st to January 3rd. All the stuff of SICAS will be off duty and may not be able to reply to your calls or emails in time.
SICAS Special Arrangements for International Applicants:
About Application: During the holiday, students can still view SICAS website and apply for China's universities online. Moreover, students who apply on SICAS and complete step 1, 2, 3 during the holiday do not have to pay SICAS Processing Fee($50).

About Application Processing:
China's universities' Stuff will also spend the holiday , so your application will be processed by them after the holiday. Only urgent emails towards application will be replied.
About Consultation:
During the holiday, if you have any emergent issue, please feel free to email to service@sicas.cn. The SICAS Adviser who is on duty that day will try the best to reply you as soon as possible.
Keep in Touch in a better way:
Add us on "Wechat" on your moblie , if you don't have "Wechat:"in your mobile , pls download and install it on your mobile phone first from
here
http://www.wechat.com/en/
,
then add the all following
SICAS WeChat ID 1: SICAS _News
SICAS WeChat ID 2: SICAS _Service
SICAS WeChat ID 3: SICAS_Lulu
You can also add us by Scan the QR Code of the above three Account on the homepage of www.sicas.cn
Note: For new student who are going to China, we suggest you book your tickets after Oct. 7th . Pls keep in touch with your SICAS Advisor, they are ready to help you at any time.
---
Click here to start your application.
Contact us if you are interested in studying in China
Whatsapp: +86-15318861816
Email: service@sicas.cn
---
Read also:
How to apply Chinese universities.
Study chinese online, anytime & anywhere.
International students' colourful life in China.
Apply Chinese universities with scholarship.