My Impression on Life in Changsha
Views:652 Time:1/24/2018 10:40:34 AM
(Editor`s note: Shadi, a student from Palastien, has spent almost seven years in Central South University, Changsha, for his bachelor`s and master`s degree)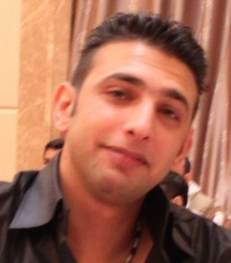 After graduation I have got a new scholarship from school to struggle for a master degree in Computer Science. I have been here almost for 7 years.
Despite the strange weather here: bitter winter and hot summer, Changsha is really a very nice city which impresses every visitor.
How the residents looks like
First I think for a city the most important thing is how the residents look like.
It is well-known that the famous food in Changsha is ''Lajiao'', spicy food, and local people, especially the female (''Lameizi'') are thus thought to be warm-hearted and their tongue is really the pen of a ready writer. Whenever I walk along the street, there will be passers-by saying ''hello'' to me with shinning smile, which makes me warm. Besides sometimes when I paid visits to my Chinese friend's family, their relatives and neighbors would show their hospitality to me too, which really made me feel at home, although Palestine and China are so different.
My Favorite Changsha food
Second, I love Changsha food very much, very spicy though, especially ''Duojiaoyutou'', which is my favorite. How can Chinese people invent such kind of food?! And I love ''Guilin Mifen'' in Buxingjie (walking street), where there are many clothing stores, boutiques shops, jewel shops and all kinds of restaurants and bars. Besides, there are many good western restaurants in Changsha which can diversify my appetites. Merely in Central South university, there is a famous street called ''backstreet'', where there are many kinds of delicious snacks. However to be honest I don't like the drinks.
Changsha culture is fascinating
Third, its culture is fascinating. I love Chinese culture very much. Changsha is famous for its ''Huxiang Wenhua'', which is profound, ambiguous and with a wide range of meaning, for example: Yuelu Mountain, very beautiful mountain and suitable for climbing, Dongfanghong Square, the Window of the World and Xiangjiang River ( nice place for walking ), as we all were being greatly attracted when we first went to these spots.
After visiting so many places I'm still longing for visiting ''Shaoshan'', ''Zhangjiajie'', ''Guilin'' and ''Yueyang Lou'' in the near future, which, doubtless, can open my mind. However, every city is far from perfect.
Changsha has Changed a lot
Since I have been living in Changsha for almost 7 years now, I have witnessed most of changes here: Changsha has changed a lot. I had lived for about twenty years in my country but hadn't experienced even a third of the changes that of Changsha. I remember when I first came here, shopping for food was not as convenient as it is today. There was only a big supermarket in the city center and the prices were not very competitive. A trip to the supermarket seemed to be rather a luxury than a necessity. Seven years later, supermarkets are everywhere; the nearest one is just across the road.
Besides the great changes there is something that you should never miss, if you don't mind about mouth burners, which I don't after seven years in Changsha, I would strongly recommend you to have a taste of ''Kouweixia'' which is my favorite food in Changsha. As for the place to go, my favorite is the Xiangjang River side. They gave it a facelift in recent years and it looks so nice. My friends often go there. You can walk for hours without stop. You can choose either strolling on the west bank or the east bank. Each of the sides has its own charm. You'll be sure to go there again and again.
My ideal life
In this fast pace of modern life, it is really crucial to slow down your tempo a little bit and enjoy your life with the people you love.
To tell you the truth, I couldn't be more satisfied with my life here. I didn't have any expectations like living in Paris or Vienna, having beautiful cars and villas but just leading a happy life. To live a simple, yet full of love life, that's my ideal life.
Related Article
Comment from Siska (Indonesia)

SICAS ( Study in China Admission System) Welcomes you all to apply to study in universities in China.
Website : www.sicas.cn
Email:service@sicas.cn
Whatsapp: + 86-15318861816
---
You could also be interested in:
---