SICAS Helps Me A Lot
Views:968 Time:1/25/2018 4:58:30 PM
(Editor`s Note: George arrived in Qingdao in September, 2013. Now he is studying Petroleum Engineering in China University of Petroleum)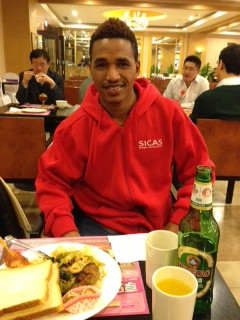 George is enjoying Chinese food and Qingdao Beer
My name is George and I am studying at China University of Petroleum. My friend who is in Donghua University recommended SICAS to me after hearing I was going to Study in China.
I registered on SICAS and my adviser Jack helped me with every detail of my application for China University of Petroleum. It`s only ten days left to the application deadline, so I choose "SICAS Plus Service Package" which indeed speed up my application and guarantee my JW 202.
I also enjoyed their Airport Pick-up Service which is included in the Package. I arrived in China at midnight. To my surprise, SICAS Students Service Team Members Lily and Joe were waiting for me and send me to my apartment.
The next day, they took me to the school enrollment and to the physical examination. This is really helpful.
Now, everything goes smoothly. I feel fantastic being in China, and I have been experiencing very good feelings about the first experiences I am facing.
---
Click here to start your application.
Contact us if you are interested in studying in China
Whatsapp: +86-15318861816
Email: service@sicas.cn
---
Read also: