Q & A about online course in Chinese University
Views:807 Time:11/3/2021 10:07:09 AM
Q & A about online course in Chinese University
Q1: Which kind of mobile platform taking online course can be used in Chinese University?
A: Due to COVID-19 virus in recent years, foreign applicants overseas China only have online course before the door is open. There have diverse mobile platforms of taking online course in China, and some main mobile platforms are as follows: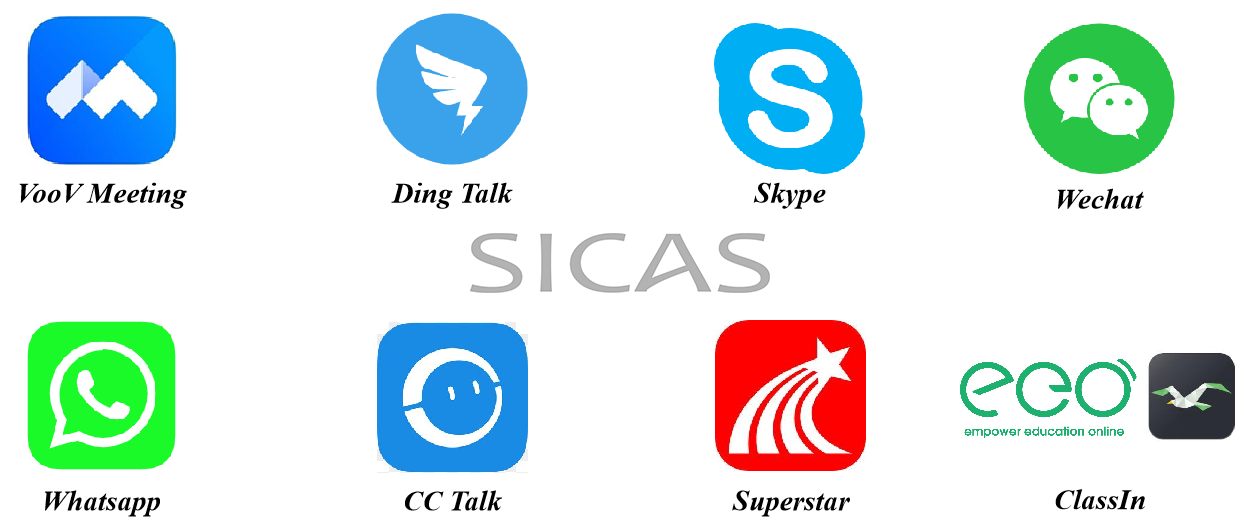 Q2: If I miss the time of livestreaming course, can online courses be played back?
A: It is determined by the arranging platform function in the university. And in general, most of universities' online platform permit students to play back the course, and if students can not be punctual in taking livestreaming course because of personal stuff, the function of playing back the course on platform is a best choice for you. But we encourage students can take the course punctually as much as possible, because you can ask for your teacher about your question in real time thus you can grasp the knowledge more effectively.
Q3: If I miss the time of livestreaming course due to network problem, what should I do?
A: Given the general quality of the network in some countries, students abroad who have problems with online classes can attend classes in locations with good network quality, such as hotels and other locations with good network signals.
Q4: How does the daily schedule about online course arrange in China university?
A: Students from abroad, especially those applying for undergraduate degrees, will take online courses in the first semester mainly including Chinese language learning and some basic compulsory courses. Normally, in order to take care of some countries with large time differences with China, most universities schedule courses in the afternoon or evening of Beijing time, so that students can take classes during the day of local time without jet lag problems.
Q5: What kind of examination form will be arranged during online course studying?
A: After the students have finished their studies during the online course, the college will arrange the online examination uniformly. Each school has its own test system platform, where students are usually required to log in with student ID and password, then complete all questions and submit papers within set time, and finally the college will grade and publish the test scores.
Q6: What is the likelihood that China will open its doors next year and should foreign students abroad also take online class in Autumn Intake, 2022?
A: Since the outbreak of the COVID-19 epidemic, countries and regions all over the world are suffering unprecedented hardships and tests. As one of the countries undergoing COVID-19 outbreak, China has been actively fighting the virus, making every effort to organize all social forces to protect people's property safety and life and health, and has developed COVID-19 vaccine to inoculate the domestic population free of charge, so as to minimize the terrible situation of the epidemic in the country. The Chinese government endeavor to achieve the goal of above 80% inoculate rate until the end of the year, and China's Foreign Ministry has discussed a range of issues related to the COVID-19 outbreak with dignitaries and has provided vaccine assistance and peacekeeping support to some developing country allies.
In view of the current situation of domestic and foreign outbreaks, we are very worried about the foreign students on the way to China having the risk of being infected, so for the life health and safety of foreign students, many colleges and universities temporarily focus on online courses and publish the latest news as soon as the Chinsese government develop new policies.
So be at ease and rest assured.