2021 Business Innovation and Cooperation Summer Camp
Views:984 Time:5/14/2021 2:32:37 PM
1. Introduction
With its advantages in Chinese teaching as a foreign language and talent cultivation as well as rich resources provided by Belt & Road Collaborative Innovation Center (BRCIC) in Qingdao, the Belt & Road Collaborative Innovation College offers the "Business Innovation and Cooperation Summer Camp for Young Chinese and Foreign Entrepreneurs" in response to the Belt and Road Initiative and the needs to obtain hands-on experience about China's economic and commercial environment. The program aims to enable entrepreneurs to learn more about China's economy, business culture and business practices, experience China's business environment, and enhance their business practice in negotiating and communicating with Chinese enterprises through courses on business opportunities in China, marketing strategies, financing environment and channels, business model innovation and value creation, product innovation, new media and customer resource creation, as well as "face-to-face" exchanges between young Chinese and foreign entrepreneurs and visits to outstanding enterprises. At the same time, it will also help domestic enterprises to develop a team of talents who can effectively perceive and serve the international market, enhance the mutual understanding of multiple cultures between China and foreign countries, and expand international vision.
---
2. Core values
The program is taught in English, with Chinese and foreign students studying, communicating and visiting together. By having classes taught on the cutting-edge trends in China's economic, financial and business fields, students can experience the dynamics of China's economic development; through lectures given by university professors and outstanding entrepreneurs, students can experience the path of China's enterprise innovation and development. Hands-on visits to top innovative companies help students gain a real understanding of China's enterprise operations and development; and face-to-face brainstorming and exchanges between Chinese and foreign entrepreneurs enable students to jointly develop their horizons and expand their innovative fields. The program not only helps international students understand China's business environment and business strategies in a short period of time, but also provides a good opportunity to expand contacts with China, establish cooperation and discover business opportunities. It also serves as a valuable opportunity for Chinese enterprises to expand their horizons, find international partners and enter the international market, thus ultimately creating a win-win situation for cooperation between China and foreign countries.
---
3.
Features
a) Finding cooperation opportunities by visiting 18 Chinese companies to experience the Chinese market in person.
b) Having discussions with a team of four of the world's top international academicians who have founded high-tech enterprises in China in the fields of new energy and new materials, intelligent manufacturing, biopharmaceuticals and the next generation information technology.
c) Having lectures given by famous professors and outstanding entrepreneurs.
d) Enjoying the exclusive resources from BRCIC's "mini-United Nations".
e) Exchanging ideas with ambassadors in China and international political leaders.
---
4. Curriculum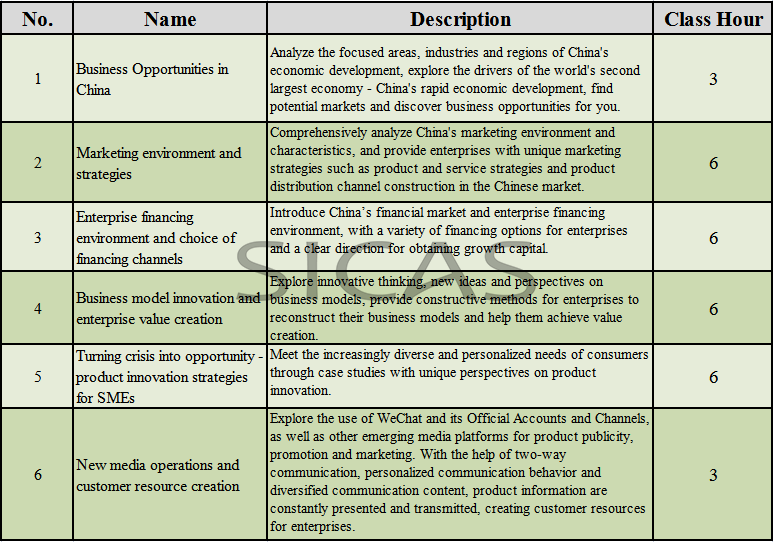 ---
5. Site visits to enterprises and cooperation negotiations
During the course, site visits to enterprises and project cooperation negotiations are arranged in the afternoon, involving enterprises and research and academician centers for economy and trade, education, energy, automobile,medicine,new materials, etc.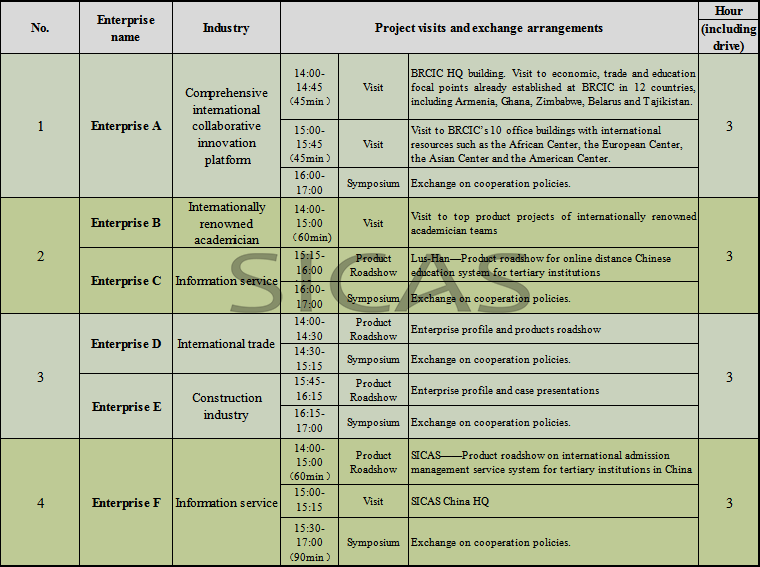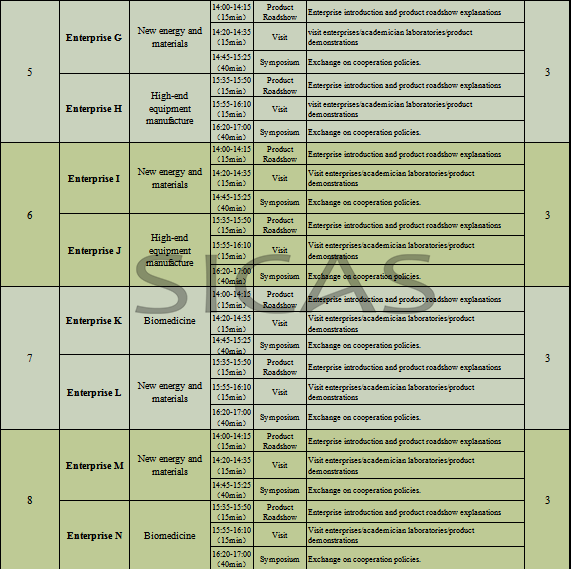 Note: Site visits to enterprises and cooperation negotiations may be rescheduled and subject to actual arrangement.
---
6. Faculty
The Belt & Road Collaborative Innovation College is the first standardized and distinctive college in Qingdao organized by Belt & Road Collaborative Innovation Center (BRCIC) according to a new mechanism and model. Known as the"mini United Nations", BRCIC is the first comprehensive international collaborative innovation platform of the Belt and Road Initiative in China. It serves as a resource center for official representatives of 108 countries and enterprises, consortia, schools, research institutes, institutions and other related sectors such as business, finance, science and technology, culture, education and tourism to sign official contracts as focal points in China. Based on the principle of"extensive consultation, joint contribution and shared benefits", BRCIC will bring in official representatives from countries along the "Belt and Road" as well as enterprises, consortia, schools, research institutes and institutions in the business, finance, science and technology, culture, education and tourism sectors of the countries concerned. BRCIC will also introduce Chinese enterprises from various industries, so that China and foreign countries can join forces and gather forces to share the international high-end human resources of the presidents, ambassadors, counsellors, academicians, ministers, directors, scientists, financiers, artists and other political, business, academic, research, medical, art and sports sectors of 100 countries provided by BRCIC, as well as project resources owned by Ministries of Land and Resources, Ministries of Science and Technology, Ministries of Agriculture, Ministries of Education, Ministries of Finance, Ministries of Commerce, Ministries of Tourism and other ministries, enterprises, consortia, institutions and agencies in these countries, enabling enterprises to have access to new development opportunities and the international market.
The Belt & Road Collaborative Innovation College is situated in Qingdao, Shandong Province, China, covering an area of 13.3 hectare with a floor area of 60,000 square meters. The College has five programs including Chinese language, international business and preparatory education, providing preparatory training for international students for over 600 higher education institutions in China. It has 120 staff members, including more than 50 full-time teachers, who have rich experience in teaching Chinese language and preparatory education. It also recruits renowned experts and scholars across China to teach, with more than 30 ambassadors in China serving as advisory professors and visiting professors.
Known as the "Switzerland of the East", Qingdao is located on the southeastern coast of the Shandong Peninsula. Bordering the Yellow Sea, it is a seaside city with beautiful scenery, pleasant climate and fresh air. Red tiles, green trees, blue sea and azure sky reflect the beautiful landscape of Qingdao; reefs, waves, colored sails and beaches form the beautiful scenery of Qingdao.
Based on the advantages of the four innovation platforms: BRCIC, Qingdao International Academician Park, Qingdao Post Cross-border E-commerce Industrial Park and Amazon AWS Joint Innovation Center, the Belt & Road Collaborative Innovation College integrates the faculty strength, school-running and management experience, educational reform achievements and other quality resources of the universities around the College, and focuses on cultivating various talents needed by the Belt and Road Initiative, thus serving the needs for economic development of countries along the Belt and Road.
---
7.
Schedule


Note: Enterprise visits and cooperation negotiations are subject to actual arrangements.
---
8. Admissions
Target Candidates

:

Foreign entrepreneurs and managers who are interested in gaining a deeper understanding of the Chinese market or are committed to doing business in China, including investment, commerce and trade.

Quota

:

20 foreign entrepreneurs

,

10 Chinese entrepreneurs.

Requirements:

Applicants should have a strong interest and intention to invest, do business or trade or have business in China, aged 18-50, physically and mentally healthy and

with

no criminal record.

Application date

:

15th March, 2021 to 30th June, 2021

Admission date:

July, 2021,

t

he exact date will be given by the Letter of Admission.

Length of the Program

:

2 weeks (14 days), the first

program

: 4th-16th, July, the second

program

: 18th-30th, July.

Application materials

:

application form for admission

;

copy of the first page of passport & 2-inch photos

;

resume

(

Chinese and English versions

)

.
---
9. Application method
1. Contact for consultation:
(1) Tel/WeChat/What's up app: 15318876251
(2) Tel: +86-532-58537777 (extension 7012)
2. Please send application materials to info@brcic.cn.
---
10. Fees & payment method
a) Fees
Registration

fees

:

400 RMB

Tuition fees

:

20000 RMB/term

Accommodation fees

:
Single room:550 RMB/day
Twin room: 280 RMB/day/person
13 nights of accommodation in total.
Facilitates

: A/C, bathroom, water heater, desks and chairs, wardrobes, bed, etc.

Insurance fees

:

200 RMB(Purchased on the day of check-in and registration, the one without purchasing insurance will not be able to register.)

Meal fees:

75RMB/Day/person(Varying from person to person, purchased on the day of check-in and registration.)

Total

:

27750 RMB/person

(

Single room, meal fees excluded

)

24240 RMB/person

(

Twin room

,

meal fees excluded

)
b) Payment method
Please choose one of the following methods of payment for the total cost according to your circumstances:
(1) Overseas Bank Transfer
Account Name(Beneficiary): EduChinaLINK Co.,Ltd. (Qingdao)
Account No.: 215612102488
Name of the bank: BANK OF CHINA QINGDAO HI-TECH INDUSTRIAL PARK SUB-BRANCH. QINGDAO CHINA
Swift code: BKCHCNBJ500
CNAPS code:104452004019
(2) Domestic Bank Transfer
Scan the QR code below via WeChat and transfer to Qingdao EduChinaLINK International Education Consulting Co., Ltd.
Note: When remitting money from abroad or within China, please make sure to note the "Applicant's name & Program" and submit the receipt when checking in for registration.
---
11. Contact us
The Belt & Road Collaborative Innovation College
Address:No.1 Building, No.216, Tongchuan Road, Licang District, Qingdao, Shandong Province.
Zip code:266064
Tel:+86-532-58537777 (extension 7012)
Email:info@brcic.cn
Website:http://www.brcic.cn