China, a World of Mysteries
Views:753 Time:1/24/2018 10:40:59 AM
Francis Tchiegue, a warm-hearted African from Cameroon and a free-thinking doctor-to-be from China's Beihang University, has become a spotlight celebrity on the Chinese stage.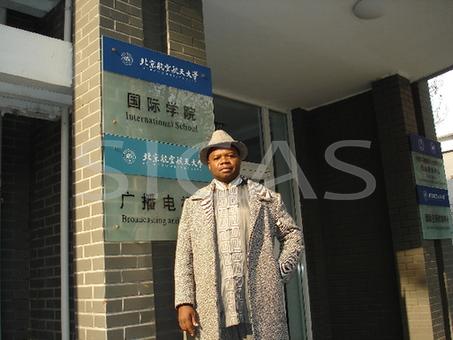 Francis Tchiegue from Cameroon, in front of the International School of Beihang University .
Life: Exploring its mysteries
Jie Gai's life is surprisingly colorful. Enthusiasm is all; his experiences prove that.
Before moving to China, he already had a PHD in mathematics from the University of Yaoundé 1. "I studied mathematics as most people consider it to be quite a difficult subject," Jie Gai indicated,
"however, not being like 'others', I'm always eager to explore such fields. And I did it well."
At the same time, unwilling to give up computer science, he also studied in the African Institute of Computer Science for certification as an Engineer.
On the way to his doctor's degree, he even hosted a TV program about classical music on Cameroon National Television. "It may seem completely different from my field of study, but it's an interest of mine.
And it enriches my studies."
For Jie Gai, his life in China is also a voyage of exploration, as it is a country full of mysteries. In Cameroon, two Chinese elements aroused his early interest. The first was kung fu. "My father is a kung fu fan.
He often practiced kung fu and took me to watch Chinese films by Bruce Lee and Jackie Chan. So I was always the winner when 'fighting' with other children in the playground," smiled Jie Gai.
The second element is Chinese characters. In Jie Gai's eyes, they are completely different from English, French, German or any other language. They are all square. Different from the basic 26-letter
alphabet, every Chinese character is formed with a unique sound and meaning. "What on earth does that stand for?" was the question continually in Jie Gai's mind until he arrived in China.
An enthusiast for China
Jie Gai was working in United Nations in 2003 when he noticed a student exchange program between the Chinese and Cameroonian governments.
Abandoning a good salary and great career prospects, Jie Gai overcame opposition from his family and successfully applied to the program. "I had been to America and many European countries such as
France and Germany, but I still felt hungry in my heart." Jie Gai said, "For me, China is a mysterious nation with magic power. I had to learn of it through direct contact."
From a zero beginning in Chinese to the present fluent speaker of standard Chinese, Jie Gai admits it has been a road filled with hardships and frustrations.
In accordance with the exchange program, Jie Gai attended the eight-month language training program in Beijing Language and Culture University before applying to Beihang University for further study.
That period created a great leap forward in his life.
With reference to his success, Jie Gai gives great credit to his positive and active attitude. He participated in various activities on campus to practice his Chinese, and never missed an opportunity to
improve. From mechanically simulating to simply reciting, Jie Gai made every effort to pronounce each character as clearly and accurately as possible. His efforts were soon recognized, providing further
opportunities to him.
Beihang is my second family
"Chinese culture is colorful indeed, but I never considered choosing it as a research subject during my further education in China," Jie Gai said seriously, "I could not give up my major. So I applied to
Beihang University for research in computer science."
Enrolled in Beihang, Jie Gai is now working on software design. In order to make full use of campus time, during the first two semesters he finished a set of courses designed to be covered over four
semesters.
"Beihang is my second family," emphasized Jie Gai, "since I have spent some of the most important moments of my life here."
Speaking highly of the well-equipped laboratories in Beihang University, Jie Gai is proud of being a Beihanger. Under the care of his teachers and classmates, he is excited at the prospect of soon receiving
a second doctoral degree.
Sauce: China.org.cn
SICAS ( Study in China Admission System) Welcomes you all to apply to study in universities in China.
Website : www.sicas.cn
Email:service@sicas.cn
Whatsapp: + 86-15318861816
---
You could also be interested in:
---