From Sports Fan to Chinese Medicine Enthusiast
Views:899 Time:1/24/2018 10:42:01 AM
(Editor`s Notes: Xavier Fricker, from Dudelange, Luxemburg, is a first year student at the International School of Beijing University of Chinese Medicine)
Xavier Fricker is young sports fan from Luxembourg who was a regular user of traditional Chinese medical treatments in his home country when he suffered injuries. Now his enthusiasm for Chinese medicine has brought him to Beijing University of Chinese Medicine to pursue an undergraduate course of study.
Why Go to China to Study Chinese Medicine
Xavier took part in several sports when he was still a high school student. The youngster often tried traditional Chinese treatments such as acupuncture and massage when he was injured or sick, and he found them very useful. This was when he developed his interest in traditional Chinese medicine. Additionally, in Luxemburg Chinese medicine can only be studied in private schools, which is very expensive. Xavier therefore decided to go to China to study Chinese medicine after he graduated from high school.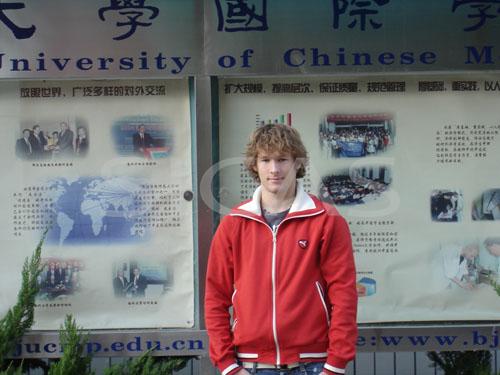 Xavier Fricker in Beijing University of Chinese Medicine
Study in Beijing University of Chinese Medicine
After some research on the internet, the young Luxembourger then applied to the Beijing University of Chinese Medicine. He enrolled as a full-scholarship overseas undergraduate two months ago. With a scholarship from the Chinese government, it was much easier for Xavier to apply for his student visa, which is valid for one year. He will then have to extend his visa when it expires.
As a freshman, Xavier is now learning the history of Chinese medicine, as well as Qigong, a system of deep breathing exercises, Chinese martial arts (Wushu), and Chinese culture on such subjects as tea and architecture. All of these subjects are taught in English, so Xavier did not have to pass any Chinese language exam before he came to the university.
The Biggest Difficulty Xavier Fricker Has Faced
The biggest difficulty he has faced in his life in China is the Chinese language, which Xavier started only two month ago. As a result he spends most of his time studying Chinese. Xavier considers it essential for a foreigner to know the Chinese language if he wants to communicate better with local people and learn more about the Chinese culture.
Life & Leisure Time in China
Xavier will either spend another two years on his graduate studies, or go back to Luxembourg to open a Chinese medicine clinic after he gets his bachelor's degree. He says his life in China is quite different from that in Luxemburg. What has impressed him is that Chinese people are kind and open-hearted, and in general very welcoming. Xavier is also interested in Chinese culture and traditions. He has been to most places of interest in the capital, which has been very helpful to him in learning more about Chinese culture.
Xavier likes sports, especially tennis, but he now spends more time on martial arts, such as Wushu, Qigong and Taiji. He also watched the opening and closing ceremonies of the Paralympics in Beijing, as well as a wheelchair basketball event. The young sports fan considered the Paralympics a great success.
Xavier has been befriended by a Chinese family in Beijing and he spends a lot of his spare time with the family. He also practices sports, listens to music and enjoys meeting people in his spare time, and he wants to make more friends locally in order to practice his Chinese and learn more about Chinese culture.