English Teacher (Harbin Engineering University)
Employer Introduction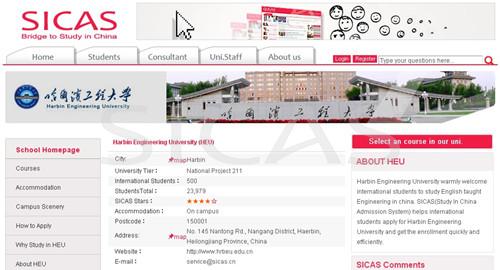 HEU is located at the Coast of Songhua River in Harbin, a famous city with beautiful scenery in the northeastern of China. Founded in 1953, the predecessor of HEU is PLA Military Engineering Institute. The school now has about 3199 teaching and administrative staff. Among them, there are 9 academicians of Chinese Engineering Academy, 298 doctoral advisors and 876 professors and associate professors.
There are around 24,000 students who are registered to have full-time courses. Nowadays
Harbin Engineering University
has been developed to the largest base of talent training and scientific research in the fields of national shipping industry, ocean exploration and nuclear application.
We invite over 30 foreign language experts every year and they all have enjoyed a wonderful time here. Now I would like to invite you to work in this excellent university and share happiness with us!
Details of Employment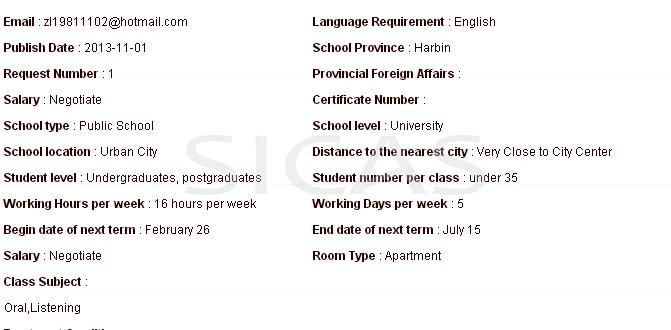 Treatment Conditions

• A return flight ticket is provided with one year contract;;
• A well-furnished apartment is provided;
• Medical insurance, and foreign teacher group accident insurance are provided during the employment period;
• Residence Permit during the employment period at HEU.

Particular request(include nationality,language etc.

• English native speakers, be healthy and aged from 25 to 55, the age limitation can be extended for the distinguished.
• Has a bachelor degree (or above) or experience as lecturer (or above). Need to have experience of related language teaching for more than two years, and have TESL,TESOL,or TEFL certificate;
• Has strong spirits of team work, dedication and diligence, as well as ability of organization and management;

Special explain about overtime working

Charge of overtime working : 100 yuan per teachin
Other living condition(include inhabitancy/telephone /internet access/television/ transportation/etc.):
A sperate well-furnished apartment is provided,including TV, fridge,airconditioner, cooker and so on. Water,power and internet are free.
Sauce: http://www.chinajob.com/jobposter/teacher/jobdetail.php?job_id=11752