Things You May Wanna Know About Study in China for 2022 September Intake
Views:961 Time:7/29/2022 3:47:33 PM
Is there still any chance for 2022 September intake?
--For MBBS student applicants, yes.
--For Bachelor of Business or Engineering applicants, yes.
--For Chinese Language or foundation applicants,yes
If you are interested, pls contat with SICAS advisor for further information
When can I back to school?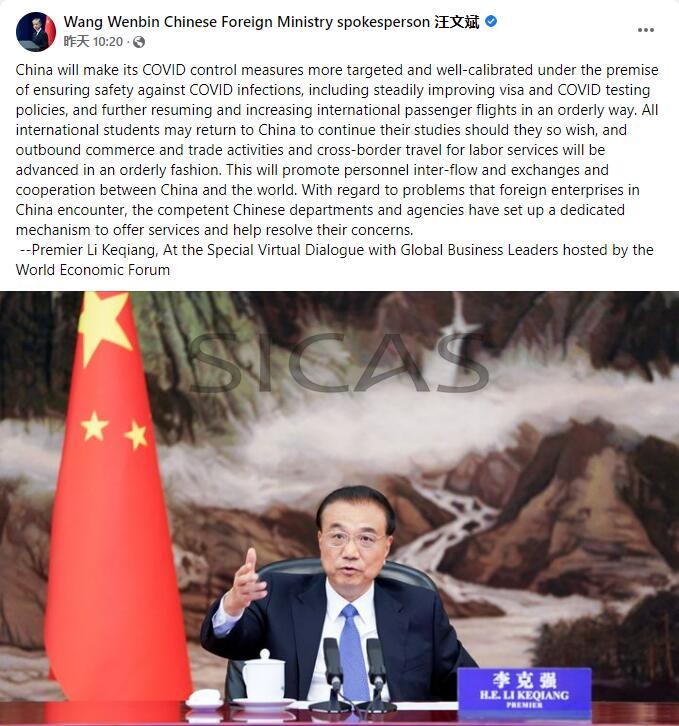 "China will make its COVID control measures more targeted and well-calibrated under the premise of ensuring safety against COVID infections, including steadily improving visa and COVID testing policies, and further resuming and increasing international passenger flights in an orderly way. All international students may return to China to continue their studies should they so wish, and outbound commerce and trade activities and cross-border travel for labor services will be advanced in an orderly fashion. This will promote personnel inter-flow and exchanges and cooperation between China and the world. With regard to problems that foreign enterprises in China encounter, the competent Chinese departments and agencies have set up a dedicated mechanism to offer services and help resolve their concerns"
--Premier Li Keqiang, At the Special Virtual Dialogue with Global Business Leaders hosted by the World Economic Forum (On July 20,2022)
Some students from South Korean, Sir Lanka, Pakistain, Thailand, Singapore already back to China since this June. More and more universities are collecting their students` "willing of back to China". Some can back immediately and some may still need to study for a period of online class, bcz students need to return in batches. Pls keep in touch with your university with lastest news or contact with SICAS for first hand infomation.
What kind of student visa can I apply for?
X1 Visa: Issued to those who intend to study in China for a period of more than 180 days.
X2 Visa: Issued to those who intend to study in China for a period of no more than 180 days.


MATERIALS NEEDED

1. Visa Application Form and color passport photo

2.Valid Passport

3.Proof of legal stay or residence status(applicable to those not applying for the visa in their country of citizenship

4.Photocopy of previous Chinese passports or previous Chinese visas (applicable to foreign citizens those who were Chinese citizens and have obtained foreign citizenship)

SUPPLEMENTATY DOCUMENTS

X1 Visa

1.Original and photocopy of the Admission Letter issued by Chinese universities

2.Original and photocopy of "Visa Application for Study in China" (From JW201 for CSC students or Form JW202)

X2 Visa

Original and photocopy of the Admission Letter issued by Chinese universities
The Current Quarantine Policy for
Foreigner
Entering China

The Current Quarantine Policy for Foreingner Entering China is "7+3", which means "7-day centralized quarantine +3-dayhome quarantine" and those who do not meet the conditions for 3-day home quarantine should undergo 10-day centralized quarantine all together.

During the quarantine, student should pay for all the feees by themselves. It is estimated that the cost is around 400CNY(about 60USD) per day. Please note that the quarantine policy may change due to government policies.
How to Apply
Way 1: Register on SICAS website directly ,you will get a SICAS advisor to guide you step by step

Way2: Contact us by wechat, whatsapp or telephone : +86 153 18861816
Way3: Contact us by email: service@sicas.cn
Related Article: