Good News! | Additional HSK Online Chinese Test (Home Edition)
Views:528 Time:4/27/2022 5:08:54 PM
应广大考生强烈要求,为满足中国地区部分考生毕业、留学、申请奖学金等需求,汉考国际将于2022年5月22日增加汉语水平考试HSK、HSKK居家网考。
In response to the strong request of candidates, hankao International will add HSK and HSKK home online tests on May 22, 2022 to meet the needs of some candidates in China for graduation, study abroad and scholarship application.
1. 报名时间 Registration Time:
4月26日9:00-5月8日24:00(北京时间)
9:00, April 26th -- 24:00, May 8th
(Beijing time)
2. 正式考试日期 Official exam date:
5月22日 May 22
3. 考试级别及费用 Exam level and fee:

4.开考时间 Exam arrangement:

考前辅导课
HSK Exam preparation Course
Dear all, it's almost the graduation season of June, 2022 in most of the Chinese universities. Considering the necessity of getting your HSK certificate to graduate, also, Lus'han hereby offers everyone a special gift of learning Chinese --only 9.9RMB to get HSK exam passing skills!!!

Original price 999RMB, now only 9.9RMB, you will get 4 HSK test preparation sprint courses (2 pass test answer skill analysis + 2 sets of HSK real question gift packs).
(Or,you can get the same free gift package if you can introduce 10 individuals who want to study in Chine or learn Chinese to your advisor).
The course can help you understand your Chinese level, find the weak points of your Chinese knowledge, prepare for HSK from the two aspects of knowledge + test skills, coupled with the teacher's careful Q & A and learning supervision, the perfect combination, you can pass HSK test easily!

Check the poster below and contact us by Whatsapp/Wechat to get your excellent Chinese classes!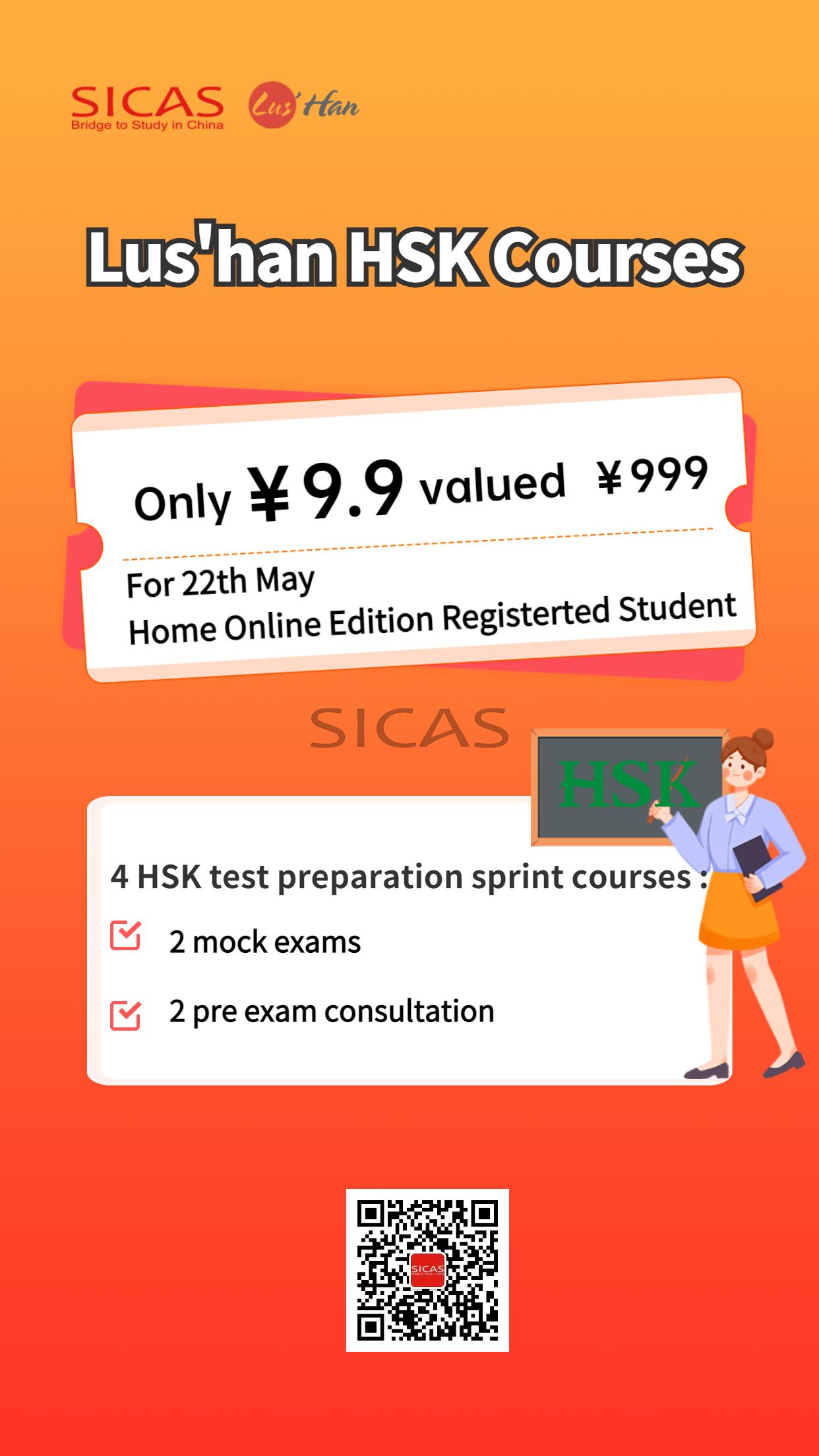 https://www.lus-han.com/Package/Index/HSK