Congratulations! Ms. Charlene Won Dalian Medical University Oversea Student Scholarship 2013/2014
On April 8th, 2014, Scholarship Awarding Ceremony for International Students, Dalian Medical University 2013/2014 was held in the conference room of International Education College.
International Students who won the scholarship are from Mauritius, Ethiopia, Ghana, Kenya, Bangladesh, Sri Lanka, Thailand, India, Maldives, South Africa, Zambia, Namibia, Somalia and other 13 countries.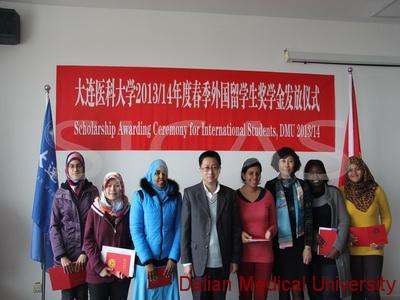 Ms. Charlene, the second girl from the right
Among them, SICAS 2013 Kenya student Ms. Charlene was awarded a full scholarship. After the ceremony, she phoned SICAS CEO Ms. Zhanglu and shared the good news with all SICAS staff members.
"I'm so glad to won the scholarship. It`s a great help to me. I want to share the joy with you and all SICAS stall members. Your care and encouragement drives me to progress in the past one year. Thanks for helping me realized my dream to study MBBS in Dalian Medical University. " said Charlene in the phone.
Congratulations once more Ms. Charlene, keep it up seek the further success.